Water Filtration and Treatment Services in Lewis County, WA
Moerke & Sons offers a wide range of different filtration needs. We can install cartridge filters and housings, media filter systems, water softeners, injection pumps, and UV lights.
We can provide you a select mineral water analysis in our office for a small fee. We will also gladly provide you an estimate for a complete filtration.
---
Cartridge Filters
Cartridge filters is a filter to remove contaminants, depending on your application. Our filters help reduce turbidity (cloudiness), small sediment, oxidized iron and mineral. We carry a variety of cartridges such as:
Pleated Filter Cartridge
Carbon Filter Cartridge
Melt blown Filter Cartridge
****Rusco Spin Down Filter – Sand Separator?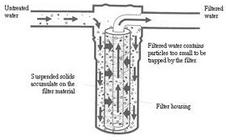 ---
UV Lights
UV technology is proven to control microbiological (bacteria & virus) issues in water including E.coli, Cryptosporidium and Giardia lamblia..
---
Media Filtration
We can help you in providing the correct media for you filtration needs. A lot of media filtration will filter as low as 5 micron removing oxidized materials. Other types of media will raise the ph level, remove chlorine, and also that dreaded sulfuric (rotten egg) smell from your system.
We also offer a water softener unit that will reduce hardness and prevent white build up due to calcium.