Water Filtration in Chehalis, WA
Moerke & Sons Pump & Drilling offers a wide range of different water filtration needs in Chehalis and Lewis County, WA. We can install cartridge filters and housings, media filter systems, water softeners, injection pumps, and UV lights.
We can provide you a select mineral water analysis in our office for a small fee. We will also gladly provide you an estimate for complete water filtration. Contact us today for more information on our water treatment solutions, water delivery, and well drilling services!
---
Cartridge Filters
Cartridge filters is a filter to remove contaminants, depending on your application. Our filters help reduce turbidity (cloudiness), small sediment, oxidized iron and mineral. We carry a variety of water treatment cartridges such as:
Pleated Filter Cartridge
Carbon Filter Cartridge
Melt blown Filter Cartridge
****Rusco Spin Down Filter – Sand Separator?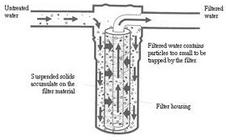 ---
UV Lights
UV technology is proven to control microbiological (bacteria & virus) issues in water including E.coli, Cryptosporidium and Giardia lamblia..
---
Media Filtration
We can help you in providing the correct media for your water filtration needs. A lot of media filtration will filter as low as 5 micron removing oxidized materials. Other types of water treatment media will raise the ph level, remove chlorine, and also that dreaded sulfuric (rotten egg) smell from your system.
We also offer a water softener unit that will reduce hardness and prevent white build up due to calcium.